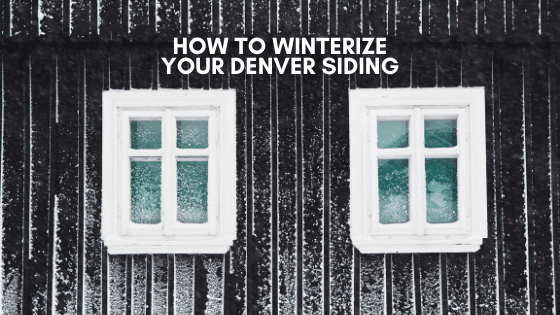 As fall quickly comes to an end, homeowners need to make sure that their properties are ready for the winter temperatures. Most homeowners will focus on turning off their sprinkler systems and blowing them out along with end-of-season yard work. Many homeowners will overlook their siding which actually should be on top of your list. Winterizing your Denver siding properly can minimize problems and save you a lot of money and time. Here's how to get your siding ready for winter:
Tips on Winterizing Your Denver Home's Siding
Winterizing your siding is completed by doing a comprehensive inspection. Take the time to do a visual inspection of your home's siding, looking in particular for any cracks, damage, or visible damage. Your home's siding will contract during the temperature extremes which will make any existing damage significantly worse. A preventative inspection helps you find small issues before they're able to get worse during the freezing months. If your home has vinyl siding, this visual inspection is especially important. Vinyl siding is much more susceptible to cracking and warping until temperature extremes. If you find any concerns with your siding, make sure to have a professional siding contractor repair it as soon as possible. Making sure your home's siding is free from damage can ensure proper protection all year-round.
Siding Replacement Options for Your Denver Home
If you're looking for the most durable siding options for defending your home during winter, we've got you covered. We've partnered with James Hardie, LP SmartSide, and Alside to provide premium siding options. James Hardie provides great durability that's engineered for our climate. Engineered wood siding and steel siding are also great options for protecting your home from the winter elements.
For more information regarding tips on how to winterize your Denver home's siding, please contact us!