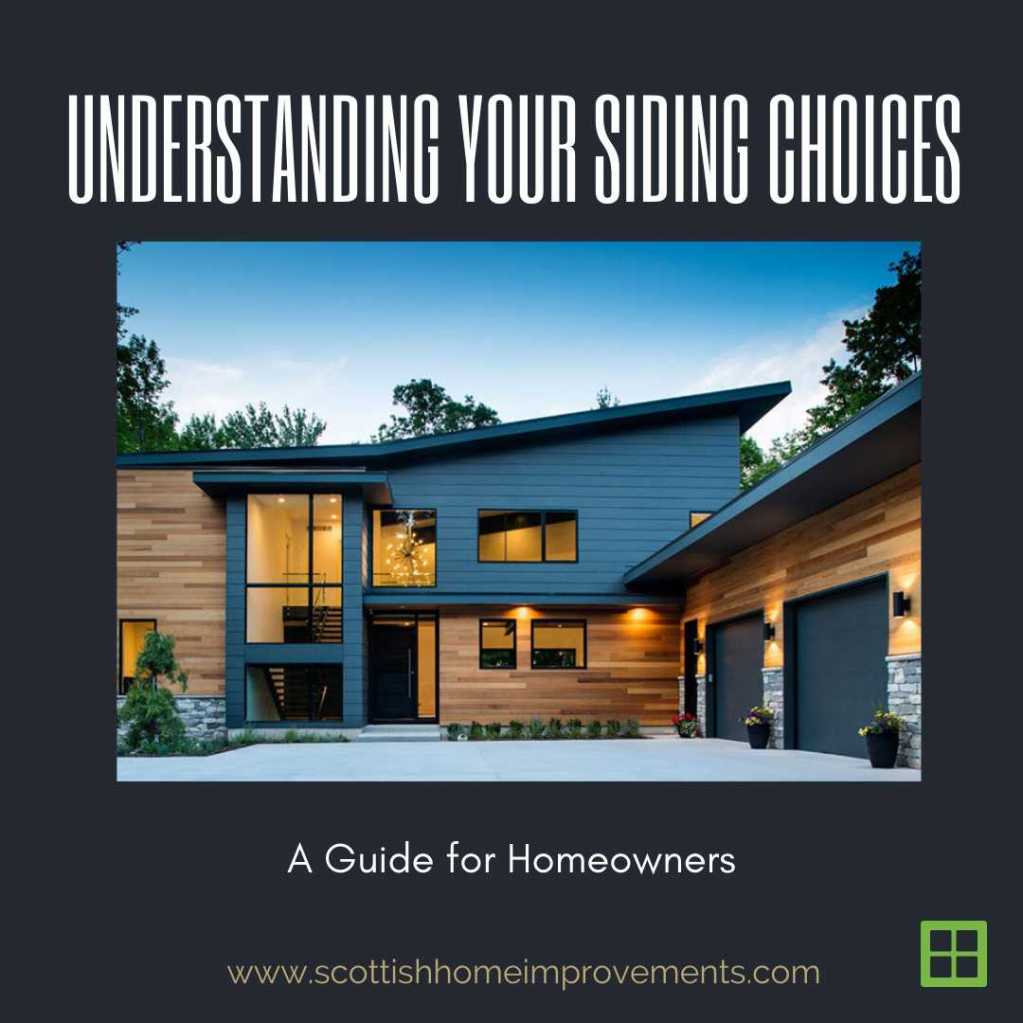 Siding will last for a considerable period of time, especially if it's maintained properly. However, there comes a point in time where all siding, no matter how durable the material or how diligent the care, has to be laid to rest. If your siding is starting to look like it's seen better days and is showing signs of wear like cracks, chips, or gaps, chances are, it's time for it to be replaced.
Choosing a siding option to replace your current exterior is an important decision. Not only will the type of siding you choose greatly impact your home's appearance, but it will also directly affect its value, level of insulation, and its attractiveness to future buyers. Furthermore, certain types of siding are known for providing a better ROI than others.
Siding comes in an array of materials, styles, colors, and brands. It's easy to feel overwhelmed when you consider all of the options that are out there. But fear not, with a little insight and information, you can make the right decision for your home. 
In this guide, we'll teach you everything you need to know about the siding choices available to you. 
How Do I Know If It's Time to Replace My Siding?
The most obvious indicator that your siding is due for replacement is visible damage. However, there are other warning signs that you can't necessarily see with your eyes. For example, if you've noticed a spike in your energy bills, your siding may be the problem. Other indicators include peeling paint, mold or fungus, rotting, warping, and faded paint. 
If you're noticing any of these issues, it's time to call in the pros. An inspection will help you get down to the root cause of the issue. 
Siding Materials
Once you've determined that you're ready to replace your siding, the next step is to decide on a material. When comparing materials, you should consider not only their aesthetic appeal, but also whether or not they're a good match for your style of home, how durable they are, and what kind of maintenance they require. Some of the most common choices include vinyl, stucco, fiber cement, engineered wood, cedar, stone, and steel. 
Vinyl 
Vinyl is the most common siding material used in residential construction in the United States. It's an engineered option (as opposed to natural) primarily made from polyvinyl chloride (PVC) resin and is designed to mimic the grooved appearance of wood. 
Pros:

With an average cost of

$3.50 per square foot

, vinyl siding has a price point that's hard to beat. This makes it an ideal option for rental properties and homeowners who are working with a more restricted budget. What vinyl lacks in durability, it definitely makes up for in price. Furthermore, since it's a man-made product, it's very versatile and can be crafted into a variety of styles and aesthetic appearances. 
Cons:

When it comes to siding, generally speaking, you get what you pay for. In other words, vinyl isn't exactly the most durable or high-end product. Vinyl is prone to cracking and splitting under extreme temperatures and is also easily damaged. Another downside is that since it's essentially made from plastic, it lacks the insulating qualities that many other materials have. 
Cost:

The cost of vinyl siding ranges from $3 to $12 per square foot. 
Recommend for:

Rental and investment properties, ranch style homes, farmhouses, bungalows, colonial style homes, Victorian homes, homes priced under $250,000, moderate climates
Stucco
Stucco siding has been around for quite some time. It has been used in architecture all around the world for centuries, including Greece, Spain, Mexico, and North Africa. In the United States, stucco is primarily found in Southern states such as Arizona, New Mexico, Texas, and Florida as well as parts of California primarily due to Mexican and Spanish influence. 
Pros:

Stucco is praised for its warm color and beautiful texture. It is made from cement, sand, water, and lime and holds up well in windy weather as well as extremely dry and warm conditions. It is also low maintenance, rot resistant, and fire resistant. 
Cons

: Stucco is slightly more expensive than some other materials primarily for the reason that its installation is labor-intensive. It is also susceptible to moisture and cracking and does not perform well in wet or freezing conditions. 
Cost

: The cost for stucco siding ranges between $5 to $15 per square foot.
Recommended for

: Spanish architecture, Mediterranean style homes, southwestern style homes and buildings, homes located in warm, dry climates
"Stucco Style" Fiber Cement
If you have your heart set on stucco siding but are concerned about the cost or maintenance, one alternative to consider is stucco style fiber cement siding. Fiber cement stucco panels will give you the same aesthetic but with added durability and less maintenance. Today, there are several manufacturers that make this type of siding. Some of the most notable brands include Allura, James Hardie, and Nichiha. 
Pros

: Fiber cement stucco is durable and impact resistant. It looks so much like real stucco that it's almost impossible to tell the difference between the two. You'll get a lovely texture and an authentic look to match the architectural style of your home. 
Cons

: Because it's made from fiber cement, this material is heavy and requires more effort to install. For this reason, labor costs tend to run higher than with traditional stucco. Fiber cement stucco may also not be the most environmentally friendly option, depending on which brand you choose.
Cost

: The cost of stucco fiber cement panels ranges between $8 to $15 per square foot. 
Recommended for

: Same as stucco; may also be used in colder, variant climates
Fiber Cement
If durability is high on your list of priorities, then fiber cement siding is an excellent choice. Made from a mixture of water, sand, wood pulp, and cement, fiber cement is undoubtedly one of the most durable materials on the market. It's also a well balanced option since it is both aesthetically pleasing and practical. James Hardie, Allura, CertainTeed, and Nichiha are some of the top producers of this exterior product.
Pros:

While vinyl siding is still popular today because of its affordability, more and more homeowners are starting to invest in fiber cement because of its many advantages, despite the cost. Fiber cement is low maintenance, durable, and long-lasting. It's resistant to insects, rot, fires, fungal decay, hail, and woodpecker damage. Because it's a man-made product, it can be used to create a variety of looks, ranging from smooth finishes and shingles to stucco and natural wood-like textures. 
Cons:

Fiber cement siding is difficult to install. For this reason, homeowners usually end up paying a higher price to re-side their home. Fiber cement is not as environmentally damaging to produce as vinyl siding, but it is also not recyclable. You may also have to repaint your siding at some point, depending on the brand and finish you choose. 
Cost:

The cost for fiber cement siding ranges between $8 to $16 per square foot.
Recommended for:

Fiber cement is one of the most versatile materials and can be used for a range of architectural styles and climates. We recommend this option for homes priced above $250,000. 
Engineered Wood
Engineered wood is another material that's quickly gaining popularity in the siding world. Like fiber cement, engineered wood is crafted to resemble the natural texture and overall appearance of traditional wood and cedar siding but is strengthened with other materials to increase its durability. A unique coating of waxes and resin is applied to the wood strands to make them stronger and more resistant to impact, insects, and weather. This is usually the option that homeowners choose when they want to avoid the upkeep and maintenance required with natural pine or cedar.
Pros

: Engineered wood siding made from quality brands like LP SmartSide and Diamond Kote is extremely durable. It's available in both primed for paint and pre-finished options. Engineered wood is also lightweight, which makes it easy to install, resulting in lower labor costs. Fade resistant finishes will last for decades without the need for repainting.
Cons

: Engineered wood siding is relatively new to the scene. For this reason, little is known about its longevity. However, in some cases, engineered wood can be problematic, especially if the resin coating forms cracks on the surface. This may allow moisture to seep in. Also, the binding agents used to manufacture this siding are not the most eco-friendly materials.
Cost:

The cost of engineered wood siding ranges roughly between $7 to $15 per square foot. 
Recommended for:

Engineered wood siding is a beautiful option for prairie style homes, craftsman homes, cabins, modern architecture, mountain homes, and many other architectural styles.
Cedar/ Wood
Wood siding is most commonly made from Western Red Cedar. However, there are truly a number of wood siding options available today, ranging in texture, profile, and color. Pine, fir, spruce, reclaimed wood, hemlock, and cypress are some other options that look beautiful and can significantly boost a property's curb appeal. Homeowners can also choose from a variety of styles, including lap siding, tongue-and-groove, shakes, split logs, clapboards, and board and batten. 
Pros

: Wood is undoubtedly the most elegant siding material. With such a rich color and texture, it has a natural beauty that's hard to beat. For this reason, homes with wood siding often stand out to buyers. Wood and cedar are also eco-friendly options since they're made from natural materials and are biodegradable. 
Cons

: The obvious disadvantage of wood siding is that it's highly flammable. If you live in an area that's prone to experiencing wildfires, this may not be the best option for you. Other disadvantages include its expense, high maintenance costs, and frequent upkeep. 
Cost:

The cost of wood siding ranges widely, and runs between $5 to $20 per square foot. 
Recommended for: Wood siding looks beautiful on a range of architectural styles. Homes located in dry, moderate climates with little to no risk of wildfires are good candidates for this siding.

Stone
If you tend to lean towards a more natural-looking aesthetic, then you might find stone siding to be an appealing option. Stone can be used as either an all-over material or as accent material. Often, it's used to highlight unique architectural features such as columns, porches, entryways, and railings. Brick, cobblestone, ledge stone, stacked stone, limestone, castle stone, and river rock are some of the many different options that homeowners have to choose from. 
Pros:

Stone is incredibly strong and durable, meaning that if it's properly maintained, it will last for quite some time. And unlike wood siding, it will not rot or decay. This makes it an excellent choice for homes located in humid, wet climates. As an added bonus, it's also fire resistant and a great noise-reducer. On top of all this, it is a very beautiful choice of material.
Cons:

Stone is a very heavy material and therefore is expensive to install. Also, if the installation is performed poorly, issues with moisture could ensue later on. Stone siding is not recommended in areas that experience earthquakes because it can crack.
Cost:

Stone siding ranges from $5 to $50 per square foot depending on the type of stone being used.
Recommended for: Cottages, tudor style, French Country, Georgian, Mediterranean, and Northwest style homes will look stunning with this material.

Steel
There was a point in time when steel siding was used primarily for commercial and industrial properties only. However, this has changed greatly in the last few years due to the increase in contemporary and craftsman style homes. Steel is more durable than aluminum siding and will last for up to 50 years. Homeowners can choose between stainless and galvanized steel depending on their aesthetic preferences. 
Pros:

Steel is dent resistant, which makes it a great option for homes that are susceptible to hail damage. It is also highly resistant to fires and extreme temperature changes. Those who lean towards a more modern aesthetic will appreciate its unique, industrial appearance. 
Cons:

Lower quality steel siding may be prone to rusting and denting. It is also difficult to install and expensive. Its appearance is very distinct and stylistic, which may be appealing to some homeowners but others may shy away from it due to its lack of versatility. 
Cost

: The cost of metal siding ranges between $3 to $30 per square foot, with steel being on the higher end. 
Recommended for:

Steel siding is recommended for industrial and commercial applications as well as modern, futuristic, and craftsman styles of homes
Find the Perfect Siding for your Home
Ready to explore siding choices? We're here to help! Call our office today to book your siding design consultation or speak to an expert about your project!