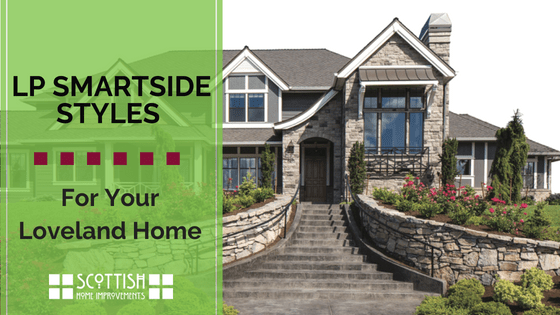 LP SmartSide:  Priced Right Without Sacrificing Style
LP SmartSide, including Diamond Kote, is one of the first major innovations in the siding market in a long time. This new, expertly engineered siding, that is fast becoming a consumer fav, is changing the way homeowners in Loveland and across the US side their homes; putting one of the most powerful siding technologies well within the price range of the average homeowner while still offering them more styles to choose from than any other siding in its class.
What Styles Does LP SmartSide Offer For Loveland Homes?
Easily one of the strongest selling points of LP SmartSide is its stunning appearance. It comes in many rich colors and styles: panel, lap, and shingle among the most popular.
Learn More About Our Diamond Kote Loveland Services
SmartSide Lap Siding:  LP Lap siding is easily the most versatile and cost-effective ways to create a beautiful custom look for your Loveland home. It is available in a number of sizes and textures, that will give your Loveland home the curb appeal you want and the durability you need to stand up to Loveland weather.
LP SmartSide Lap Siding Features & Benefits
One of the most durable and affordable lap siding on the market
16' length for faster installation
Creates fewer seams than traditional 12' siding
Treated engineered wood strand or fiber substrate
SmartSide Panel Siding: LP® SmartSide® Panel Siding insulates your Loveland as well as it keeps it protected. With LP Smartside homes are warmer in the winter and cooler in the summer due to a tough siding that looks amazing too! It has that beautiful real wood look but gives your Loveland home all of the advantages of treated wood technology–like rot and pest resistance.
LP SmartSide Panel Siding Features & Benefits
A sleek natural look
Perfect for exterior for homes in areas of high winds or seismic activity
Significantly lighter than similar fiber cement panel products
LP SmartSide Shingle:  SmartSide side products, including SmartSide Shingle, are treated with a proprietary SmartGuard® process all the way to the core. This special treatment adds strength and helps LP SmartSide shingle products withstand hazards like impacts, freeze-thaw cycles, high humidity, fungal decay and more.
LP SmartSide ShingleFeatures & Benefits
Features fine sawn wood texture with no knots
Clean-lined Shingles with up to a 5.5˝ to 6.5˝ reveal
A beautiful accent for gables or siding walls
To learn more about LP Siding For Your Loveland Home watch the video below: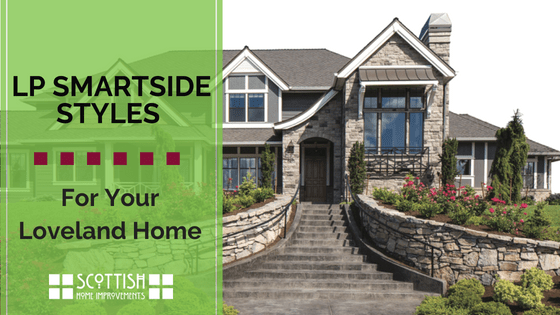 For more information on LP siding products or to schedule a siding consultation, contact us at Scottish Home Improvements today!